---
Paper Model
Claude Monet: Gardens of Giverny
Author: Lutz Pietschker
Version: 2018-05-10
Paper Modelling | Home Page | Links | What's New
---
General Information
Title: Jardins de Giverny (Gardens of Giverny)
Publisher/Designer: Christiane Remblier (construction) & Jean-William Hanoteau (colours); editor: L'instant Durable, Clermont-Ferrand, France 1993
Scale: not given, approx. 1:100
Size (built, l x w x h): 44x31x17 cm
No. of Sheets: 3 sheets 31x22 cm
This model is a representation of the house and garden in Giverny (KML file), where Claude Monet lived from 1883 to his death in 1926. Giverny is a small town in the Normandy département of Eure, about 65 km north-west of Paris, near Vernon. The garden is situated very near the junction of the rivers Seine and Epte (a brook rather than a river, I'd say, just as Giverny is more of a village than a town). The garden as well as its neighbourhood were the inspiration or indeed the direct model for many of Monet's paintings. The house and garden are well-preserved (though the footpath between the garden and the pond has become a veritable through road), and the house is now the seat of the Fondation Claude Monet.
There are many websites dedicated to the garden and house, many of which also give very good information about visiting the site; please looks them up yourself. Looking for "visit monet garden giverny" in the search engine of your choice should bring many results. There is also a dedicated website that even has a plan of the actual garden. Below are some impressions of what the garden looks like today.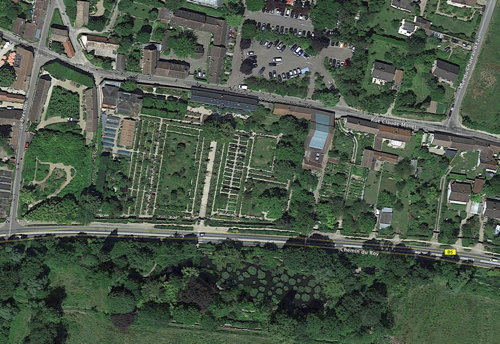 Aerial view of the garden as it looks today

The house in which Monet lived with his family.

The bridge of the water lily pond, painting and original

The famous pond itself, the object of many of Monet's paintings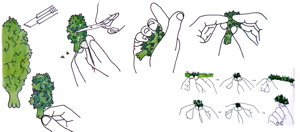 This model is beautiful, but it is also unusual in some ways. Most models simply say "cut here, fold her, glue together". Here, some elements (like trees and hedges) must be sculpted by the modeler (they did something similar with the rocks in their Mont Saint-Michel model), so each model will be unique in certain small details. Also, you are free to place some elements (notably the figures) wherever you feel they would be appropriate. A nice touch, though it somewhat disturbed the precision engineer that in spite of retirement keeps pestering part of my soul. I must say that it took me some effort to actually crumble the cleanly cut-out bushes and hedges!
But back to "beautiful": The drawing and colouring are very precise yet light, done in watercolours and reminding me of Monet's own style of painting (not a coincidence, I am sure); the print quality is excellent, as always for L'instant Durable models. Many parts are printed double-sided, and very precisely, too. Inexplicably, on the base and back they got the size reserved for the terrace (part 1+2) wrong, but you can easily hide that with a bit of watercolour.
The model is a hommage to Claude Monet, and a very nice one, too. I am glad that I finally got around to build it.
Picture Gallery
(Click image to show it in large size.)
| | | |
| --- | --- | --- |
| | | xxxxxx |
| | | xxxxxx. |
| | | xxxxxx |
| | | xxxx. |
If you would like to build this model yourself, here are my experiences and thoughts:
As usual with L'iD models you need to think ahead; there is no detailed step-by-step assembly instruction (the French really do have faith in their customer's intelligence). Make sure that you understand the way everything is supposed to fit together, preferably before you start cutting.
I mounted the base and background on foamcore boards (KAPA is a common brand in Germany). It makes for a very stable foundation and is easy to work with. Recommended. (C'est à dire "would do so again".)
For mounting, I used contact cement (Pattex), but assembled the parts as long as the glue was still fluid. The cardboard quality is such that this glue does not "bleed through". For all other work I used either PVA ("white") glue or, again, contact glue. Do not use any glue that dries glossy; some glue points will be visible later, and PVA glue is matte when dry and therefore much less conspicious.
The space on the base reserved for parts 1+2 (terrace) is too narrow in one direction and to wide in the other. No big problem, though.
I reinforced the front of the terrace with a strip of dark brown cardboard, otherwise you could peep under the terrace beneath the stairs. This also made the terrace much easier to assemble, as it holds its shape much better than it did before. If you want to do the same, do it before cutting part 2 out.
xxx
---
As the author of this page I take no expressed or implied responsibility for the content of external links; opinions expressed on such pages are not necessarily mine. The web space provider is not responsible for the contents of this page or any linked pages.
Written and published by Lutz Pietschker. Please send comments about technical problems to the site master.
-Made with a Mac!-
, last change 2018-05-10
---