---
Flash Point: Fire Rescue Scenario: "Oktoberfest"
Author: Lutz Pietschker
Version: 2011-03-01
Games | FP:FR Main Page | Home Page
---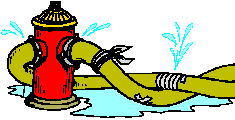 Neu: Deutsche Regeln verfügbar
I wrote this scenario in memory of a memorable October 2011, in particular 20th to 23rd. This explains why the general mood is a bit more hilarious than appropriate for firefighting and rescue.
In October, all over Germany fun fairs spring up that are mainly about drinking beer, eating high-calorie, low-vitamin food and expressing a splendid mood by singing silly songs at high volume. They call these fairs Oktoberfest, the ancestor and most famous of them being held in Munich, Bavaria.
One of the few notable exceptions is a city upon river Ruhr where they celebrate by inviting a huge international crowd into huge halls where they walk about solemnly, tick off long lists solemnly, eat high-calorie and low-vitamin food and participate each evening in a traditional trunk-packing contest.
Both kinds of Oktoberfest are not without certain dangers.
---
The Situation
In a small German village that does not wish to have its name published (if I tell you that it is north of the Alps, but south of the North Sea you will probably recognise it) the Fest is in full swing. People sit in tents, eat and drink, but suddenly something goes wrong, and chaos erupts. Fortunately, the local voluntary fire squad has been prepared for just that case and is ready to help.
Game Board and Rules
Use the board that comes with this scenario. It shows the village green, at one side conveniently bordered by the churchyard wall, and part of the road that runs past. The green is fenced in and a tent, a barbecue and a beer bar have been set up for the occasion.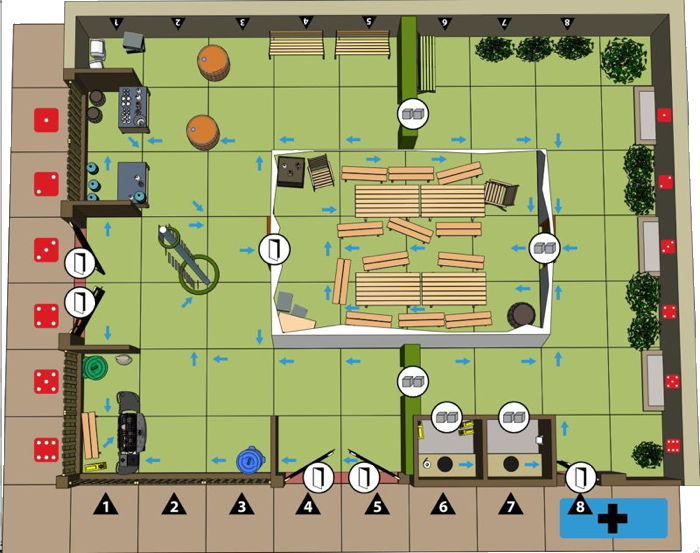 (Click image to see the 3D rendering of the village green.)
Have fun, and if you like this scenario please tell me.
Fire texture courtesy of http://suicidecrew.deviantart.com/
---
As the author of this page I take no expressed or implied responsibility for the content of external links; opinions expressed on such pages are not necessarily mine. The web space provider is not responsible for the contents of this page or any linked pages.
Written and published by Lutz Pietschker. Please send comments about technical problems to the site master.
-Made with a Mac!-
, last change 2011-03-12
---